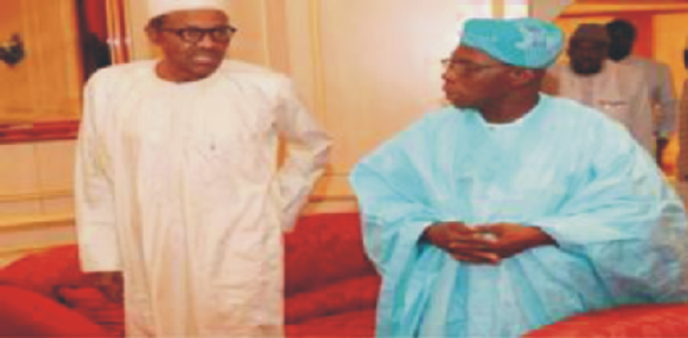 The Hypocrites of Unity, Peace and Progress - by Chin Ce
___________________
It is inconceivable the public indignity of having to listen to bogus utterances by Africa's failed leaders such as Olusegun Obasanjo, Ibrahim Babangida and Yakubu Gowon on what's good for Nigeria's unity. If these leaders hadn't squandered the opportunities for national peace and eliminated progressive voices that sought to hold them to different account, Nigeria and, indeed, Africa would not have seen the mess it is today.
In his recent statement, two-time head of state, Obasanjo, true-to-type, averred that he has no apology, but explanation, for their past self-serving misdeeds which included prosecuting a needless civil war wherein they massacred two million innocents. In civilised societies these tyrants ought to spend the rest of their lives in exile and meditative silence. And such may have been why a member of the cabal of national failures like Shehu Shagari retains a writer's regards for the introspective dignity of his silence, in tacit acknowledgement of his having messed up four to five years of national opportunity for democratic greatness under his generation of co-travellers.
But not so for Olusegun Obasanjo.
A man of deeply rooted clumsiness of mind and body, correctly analysed by his erudite kinsman, Wole Soyinka, as suffering from incurable inferiority complex, every accidental escapade of this human creature in uniform and agbada has seen unmitigated disaster for the Nigerian nation.
Obasanjo will be remembered for his brief three-year tenure as military head of state after the assassination of his superior commander-in-chief Murtala Mohammed in the Dimka-led coup. In those three years, his lame-duck foreign policy witnessed reversal of the brave declarations of the Murtala initiative that saw the final nationalisation of British Petroleum in the fight for a free and independent Angola and all of Southern Africa. In Obasanjo's uneventful, unremarkable cabal-teleguided tenure, positive action was replaced with infantile boldface, such as the ludicrous declaration on a Thank-You visit to Ogun state in 1979 that Nigeria will become one of the ten leading nations of the world by the end of the (twentieth) century. His OFN programme, Operation Feed the Nation, soon became kindergarten sing-song among civil servants and school children. OFN's only memento may have been his acquisitionist adventure at Ottah farms that could not even feed the general himself until regrettable intervention by meddlesome political interlopers brought his rather undistinguished portraiture back to state house in 1999 as 'civilian' president.
Notice the quote on civilian, because experience has taught Nigerians the harsh truth that there can be nothing civilian in anyone whose avowed career and temperament have been inebriated in reptillian automated mind-control mechanisms of the armed forces which they keep calling 'patriotism'. Let it be our collective resolution that after the present Buhari misadventure no retired general of any Nigerian army, navy, air and eternally corrupt police force should be allowed the commanding heights of our national leadership ever again. But this is beside the point now.
That end of twentieth century which Obasanjo had predicted for Nigeria's rise to world status was to culminate under his presidency in harrowing eight years of national corruption, abuse of power and fraudulent sale of government assets in the name of privatisation and monetisation policy. Allied with an insane bid to alter the constitution to allow him a third tenure, Obasanjo's twice-failed leadership offered nothing to actualise the potential of a nation or improve the lot of the suffering majority of Nigerian people. Lacking in true leadership compassion and stoked in occult demonism, Aso Rock slipped in positive international rating by Transparency International and descended in odium as one of most corrupt governments of the world. His Financial Crimes Commision became ordinary witch-hunt machinery for intimidation of political opponents while a satanic band of his preferred sycophants and toadying hangers-on fed fat on the cabalism and mediocrity of his civilian dictatorship.
After sponsoring corruption at senate and bribing assemblymen to have his less-than-nationalist way with national issues, Obasanjo's second leadership of Nigeria ended ignominiously but not until he had succeeded in turning himself and his scandalous cult followers into millionaires from misappropriation of state resources through fraudulent privatisation exercises.
It is the forgiving spirit of Nigerian masses that still allows failed leaders like this Orwellian Napoleon to continue to strut freely around the country, attending FEC meetings and making a hogwash of pronouncements which further cast question marks on his real objective for national integration.
Next to Obasanjo and, perhaps, the more infuriating of the hypocrisy of Nigeria's failed leaders, is Ibrahim Babangida. This man's corrupt 'You-chop-me-I-chop' regime, like Obasanjo's, presided over serial liquidation of Nigeria's intelligent citizens. The apparent official complicity in the gruesome murder of Dele Giwa signalled the end of bold investigative journalism for Nigerian media. Today's mainstream traditional and online media are awash with quackery, mediocrity and dumb, sensationalist trivia, replete with poverty of professional vision and studious copy-editing housemanship, simply due to the horrendous despatch of Dele Giwa by military parcel bomb under Babangida. While true patriots who cried wolf and sought justice like Gani Fahewinmi were being hounded and jailed by his gulag, inflation from the clueless Shagari Austerity Measures spiralled under Babangida's Structural Adjustment Programme. Cronies and cohorts of queer psychological orientations ruled the nation, making millionaires of debauched minions across the length and breadth of a twice-impoverished country. A pervert gimmick of compromising credible Nigerians became his pet game. Wole Soyinka, Tai Solarin, Humphrey Nwosu became unsuspecting victims of one man's bid to widen the corruptibility and ultimate reductionism of progressive elements into lap dogs and hedonist ego worshippers of the emperor. Finally and most unforgivably came the reversion of a nation whose people had united in tolerance, unity, faith, peace and progress. Babangida's junta annulled the only credible, free and fair elections of 1993 since the history of Nigeria for the simple unacknowledged reason it was won by a powerful, independent-minded Moshood Abiola from Nigeria's west and not the clueless nonentity, Bashir Tofa, from Nigeria's north.
Till date these two commissioned agents of Nigeria's backwardness and ridicule in the comity of civilised world have not had the moral imperative, let alone the introspective self realisation of old age, that should have seen them publicly apologise for their roles in extinguishing Africa's biggest hope. Gowon, Obasanjo and Babangida have preferred the old mind rut of farcical dissembling of their criminal historical culpability.
This is why Africa is slow to heal.
It is a continent of chronically deranged megalomaniacs, psychopaths and kleptomaniacs masquerading as state leaders and fathers of nations. Till date their current legacy is the kakistocracy they have endowed upon their continent: the government by the most worthless people, as evident in Nigeria's senators, assembly men and sitting governors.
Somehow, at present, Atiku Abubakar who was part of Obasanjo's civilian regime spawned in paramilitary mentality of plunder and back-hand conversion of state resources into private pockets is assuming the only northern candidate with plausible claim to debonaire democratic credentials. Recently the opportunity of his emerging a credible nationalist voice from the North is shoring up with his progressive posturing on the urgency to restructure the country along the lines of true fiscal federalism and restoration of citizen rights and initiative under a just, equitable, egalitarian society where no section of the country is kept in the marginal fringe as now obtains under an APC-led regime that has disappointed Nigerians who voted for change. But Atiku's seemingly benign direction in future progressive leadership of the country come 2019 requires that he turn from the hypocrisy of past and present leadership cadres and develop stronger moral commitment and consistency of wholistically detribalised and selfless vision that can endear him to thinkers, opinion managers, research fellows and, indeed, Nigerians from all sections of the country.
Unfortunately his recent Freudian slip regarding hate and extremity movements is a drawback to his assumed profile as the bridge of understanding that many believe will heal Nigeria of its present fragmentation should he earn a presidential mandate. His press release on Vanguard media, Saturday 08/07/2017 glibly avers that "It's important for Nigerians to respect leaders who played defining roles in Nigeria's development". This may have been in reference to the virulence with which Obasanjo's vitriol on the Biafra question has been matched by implacable IPOB clones like himself. But pray, what kind of defining roles did Atiku and Obasanjo play in the thwarted years of their disagreeable reign?
Atiku Abubakar should have known that since Obasanjo remains a discredited elder, a hypocritical voice, in Nigeria's march to greatness, any statement which deigns to exhume some respect for the ghosts of spent and lifeless gerontocrats, conniving to insist upon their relevance in a new order for which they are innately incapable of providing Nigeria's majority, is bound to backfire. Atiku should have noted more boldly that in denouncing the call for restructuring when overwhelmingly greater sections of the country have severally highlighted its best course for national reintegration, Obasanjo has proven to remain the problem and not the solution to the fate of the endangered majority of Nigerians.
Such is why the image and memory of Nigeria's past leaders, especially Obasanjo's, Babangida's, Abacha's, Abdulsalami's, these hypocrites of African unity who extinguished progressive voices under their watch, must remain so sordid, so contemptible, so morally reprehensible to our collective sensitivities, as to be completely ostracised and finally exorcised, by every means necessary, from our private and public domain. Where it is inevitable to engage our discourse on these vile group of humans who incarnated upon our national space, no self-respecting writer, journalist, lawyer, historian, educationist and academic should fail to remind their readers, listeners, students and successive younger generations the amoral legacies of these reprieved murderers, literally and figuratively, these desecrators of our brightest minds and national estate. Only when these ugly facts of their history are established upon the collective conscience that we the people of Nigeria may begin to breathe some new air of enlightenment and, therefore, rise to the moment of enthronement of justice and lasting progressive change with the coming new order that we have vowed to bring to existence through a restructured federation
______________
An African global-network publishing company