In the words of Rabelais, 'that is what happens when you weaponize your banking, weaponize your credit markets, weaponize your stock market, weaponize your currency.
'Making threats with the banking system
and the currency system is not a proof you are indeed very intelligent. Now it is way too late to reverse the trend. People across the world now understand
how the US dollar is radioactive and dangerous
.'
China Completes LNG Trade in Yuan
by RT news
The transaction involved a shipment from the United Arab Emirates, according to the Shanghai exchange.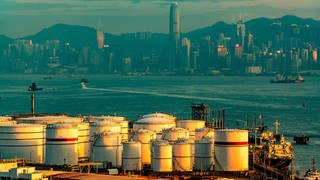 China has conducted its first liquefied natural gas (LNG) purchase settled in yuan, the Shanghai Petroleum and Natural Gas Exchange announced on Tuesday. The trade involved around 65,000 tons of LNG imported from the United Arab Emirates, according to the exchange.

TotalEnergies, which is one of the world's top exporters of LNG, confirmed a transaction involving the UAE without specifying the details, Reuters reported.
The move is the latest sign of the yuan's growing role on the international stage, according to the outlet. As part of its de-dollarization strategy, Beijing has been promoting settlements in national currencies other than the US dollar and euro.
During a visit to Saudi Arabia in December, Chinese President Xi Jinping stated that his country would "make full use of the Shanghai Petroleum and National Gas Exchange as a platform to carry out yuan settlement of oil and gas trade."
Russia became China's largest oil supplier in the first two months of 2023 and is set to become the country's top gas exporter. Moscow has increasingly embraced settlements in yuan amid Western sanctions.
The latest data from the Bank of Russia shows the yuan has become a major player in Russia's foreign trade, with its share of the country's import settlements jumping to 23% by the end of last year, from only 4% in January 2022. The yuan's share in export settlements has also surged, from 0.5% to 16%.