AFRICA AND HER WRITERS [JALC 10 Special Editionl

Special Tenth anniversary edition of the JALC Contemporary Series which features more critical entries and reviews on favourite authors of African fiction, poetry, drama and non-fiction. This unique concern with authors and their work marks a continuing quest for assessment of Africa's creative literatures alongside visionary progress and aesthetic of different nationalities and their varying degrees of individual consciousness. Order Now
JOURNAL OF AFRICAN LITERATURE # 9

Approaches to race, heroism and African writer's memory and reinvention of linear time are highlighted in this volume. The heroic wisdom of African proverbs as a metagenre is rediscovered in the new writings of African scholars. The unity of culture is highlighted in the importance of sharing equally fruits of modern collective efforts. A multidimensional notion of time and existence is replacing the linear time that is very much an arbitrary creation of human materialist consciousness. And the perception of unity in great variety broadens rather than narrows our perception of our universe. Order Now
JOURNAL OF AFRICAN LITERATURE # 7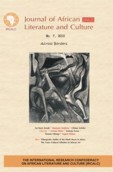 Across Borders is an attempt to commit the process of African integration in postcoloniality and postmodernity to the exploration of perspectives on black identities in contemporary writings and the interaction of cultural expressions beyond the borders of Africa and across the Atlantic. Order Now
THE JOURNAL OF NEW POETRY NO. 6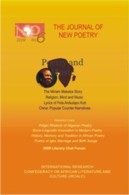 This volume, in memory of Africa's Lady of Songs, Miriam Makeba, takes historical, sociological, literary, aesthetic perspectives on the evolution, practice and emergence of African poetry and music as mutually reliant and dependent creative media of art in society. It proposes that music should weave naturally, and most perceptibly, with religious function of art, in a social communion that holds greater purpose for individual and communal well being. Order Now



AFRICA LITERARY JOURNAL ALJ B5
FEMINIST IMPULSES, CITIZENSHIP ISSUES
The African Literary Journal (B5) is a move toward replacing exclusivity of disciplines of the early school with a more imaginative approach to disciplinary relations where borders seem to merge in the treatment of issues such as feminism, politics, nationality, literacy and culture. Order Now
Journal of AFRICAN LITERATURE # 4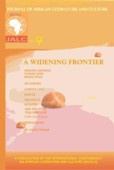 The Journal of African Literature and Culture No. 4 examines the dramatic literatures of Ama Ata Aidoo, Tess Onwueme and Femi Osofisan in addition to fresh insights on the prose writings of Bessora, Bessie Head, Mia Couto, Coetzee, Laye, Ce, and more writers of the new tradition. Order Now
AFRICA LITERARY JOURNAL ALJ B4
RE-IMAGINING AFRICAN LITERATURE (1)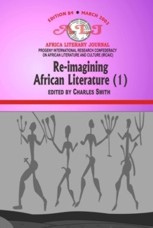 Africa Literary Journal (B4) comes with integrative indigenous approach to African literary criticism and an emphasis on African oral literatures.
CRITICAL STUDIES CS (A) 2: ONUORA OSSIE ENEKWE

The Second IRCALC Critical Supplement (A)2 series on African writing assembles a total of 17 Critical Essays, Chats, and Reviews on the Poetry and Prose Fictions of Nigerian professor of dramatic literature Onuora Ossie Enekwe. This is the first collective and comprehensive criticism and theorizing of Enekwe, whose writings have bolstered African aesthetic contributions to world literature and theatre. Order Now
Journal of AFRICAN LITERATURE # 3
RE-IMAGINING AFRICAN LITERATURE 2

Continuing the theme of Re-Imagining African Literature, articles in JAL (3) issue include critical reappraisals of the works of notable younger and older African writers: Chinua Achebe, Wole Soyinka, JM Coetzee, Chin Ce, Dangaremgba, Vassanji, Ama Ata Aidoo, Mongo Beti to mention but a few. Order Now
JOURNAL OF AFRICAN LITERATURE # 8
Featuring a Forum on the oral-written interface in Achebe's fictions, this volume of contributions from scholars of Black and African writing around the world has exploded theoretical frameworks for propagating indigenous knowledge about the Black experience, the tensions of space and identity at various political, social, economic and psychological levels of African national existence, and their possible remediation through imaginative ideological fusions that are embedded in the external and subjective realities of our world. Order Now
THE JOURNAL OF AFRICAN LITERATURE NO. 6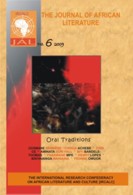 Here is an important contribution which integrates the oral traditions of African writing within new and contemporary expressions through exploring the literary permutations of oral performance arts in the works of African writers.
Order Now
THE JOURNAL OF NEW POETRY NO. 5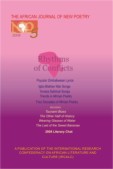 "Rhythms of Conflict" the Fifth edition of the 2008 Journal of New Poetry holds greater relevance in poetry of the twenty-first century. Dedicated to the distinguished Malawian poet and scholar, Jack Mapanje, NP No. 5 will challenge readers with the truth of the aliveness of African art to the political and social concerns of the century. Order Now
THE JOURNAL OF AFRICAN LITERATURE [JAL] NO. 5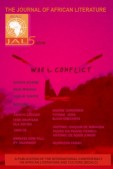 JAL No. 5 contains 15 scholarly essays on the theme of War and Conflict in African Literature. Written by scholars from the United Kingdom, Africa, Asia, and America, this 2008 volume is divided in two broad categories of National/Political and Gender Conflicts to which have been added The Writer's and Chat Forums featuring writers and critics from Nigeria. Order Now
THE JOURNAL OF NEW POETRY NP 4

NP No. 4 Theme, "Griots of our Times," examines African contemporary poetry in a way that will delight and challenge scholars. The reader will also find the review of some recent poetry publications from Canada, Namibia and Nigeria a revealing outline of present trends in the poetry of Francophone and Anglophone Africa.
Order Now
Journal of NIGERIAN POETRY NNP No.2
CRITICS OF THE NEW POETRY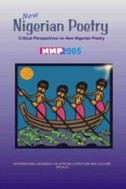 New Nigerian Poetry introduces a literary showcase: Chat Forum where Nigerian poet and novelist Chin Ce debuts as guest; includes new studies of Nigerian poets: Romanus Egudu, Ossie Onuora Enekwe, Odia Ofeimun and Ken Saro Wiwa. Order Now
CRITICAL STUDIES CS (A) 1: THE WORKS OF CHIN CE

IRCALC Critical Supplement (A)1 is a testimony of the rising voices in African literature. Works of the Nigerian poet and novelist critiqued here include Ce's fictions, Children of Koloko, Gamji College and An African Eclipse (poetry). Also inclusive are Chin Ce's other works, The Visitor (novel) and Full Moon (poetry) and Millennial collection of poems. Order Now

BEYOND SUBJECTIFICATORY STRUCTURES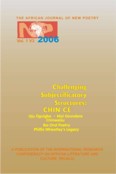 The Journal of New Poetry (3) contains scholarly essay contributions, and features new poetic expressions from Africa, America, Canada and the Caribbean islands, including new trends from the African literary Diaspora.